Your Guide to Changing a Flat Tire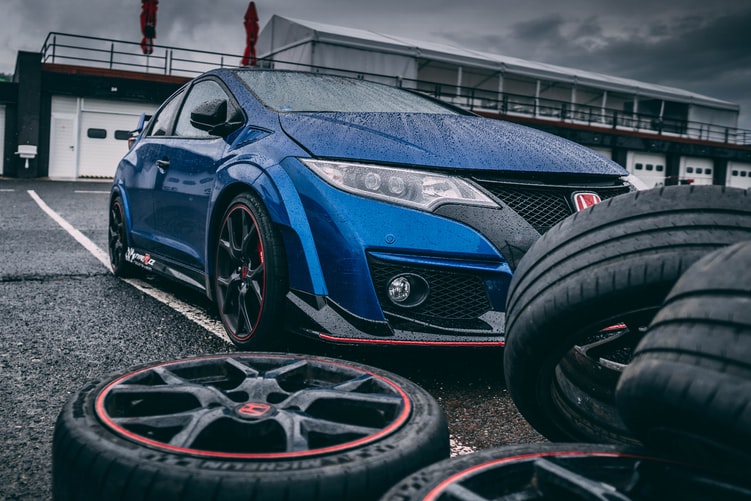 Find a Safe Place
When you realize you have a flat, slowly reduce speed and scan the area around you for a level, straight stretch of road with a wide shoulder.
Hazards
Switch on your hazard lights to improve visibility and alert drivers to your presence.
Parking Brake
Apply the parking brake as soon as you stop. It'll keep your car from rolling.
Wedges
If you're changing a front tire, apply the wedges behind the rear tire, and if you're changing the rear tire, apply the wedges in front of the front tires.
Remove Wheel Cover or Hubcap
Remove the hubcap before lifting the vehicle with the jack. Use the flat end of the lug wrench to remove it. Consult your owner's manual if that doesn't work. Place the spare next to the wheel too.
Loosen Lug Nuts
Turn the lug nuts counter-clockwise with the lug wrench. Use as much force, even your leg, or all of your bodyweight if required. Only loosen them to ¼ or ½ a turn. But don't remove them completely.
Position the Jack
Place the jack beneath the vehicle frame next to the flat tire. Follow the instruction in the owner's manual to ensure that you're doing it safely. Place a 2"x6" plank of wood under the jack to prevent it from slipping before raising the car.
Raise the Car
Raise the vehicle with the jack until the flat tire is about six inches off the ground. Never put any part of your body under the car while or after raising it with a jack.
Remove Nuts and Tire
Now, unscrew the lug nuts all the way and remove them. Then hold the tire by its treads and pull it towards you till it's free of the hub. Set it on its side.
Mount the Spare
Mount the spare by lining up the rim with lug bolts and push till the bolts show. Now tighten the lug nights by hand and then lower the car to the ground only till the new tire rests on the ground. Now tighten the nuts completely with the wrench and push down with the weight of your body. Replace all nuts similarly and lower the vehicle. That's it.